Our Tile and Grout Cleaners Restore the Condition of This Bathroom Floor in Charleston, SC
October 28, 2023
It's difficult to keep a bathroom looking good. To maintain a bathroom from deteriorating, it typically needs time and constant effort. For a few weeks, our next customer had forgotten to pay close attention to her natural stone bathroom floor. That is, until one day, she noticed the state of it.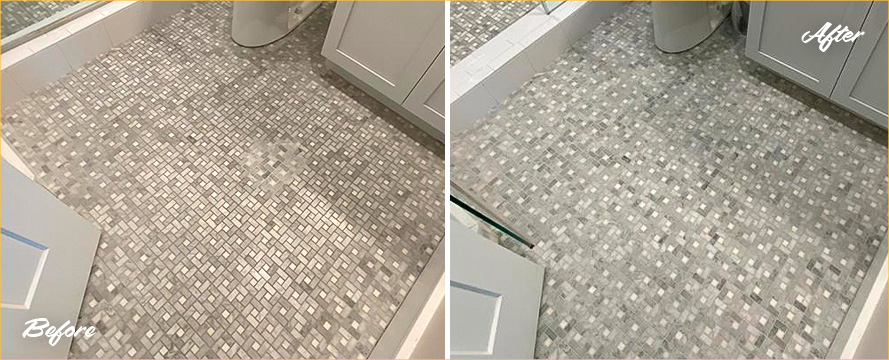 The owner noticed the bad state of the bathroom floor and realized she had to call in specialists because it required more than just a basic clean-up. Concerned, she looked for help on the internet. Most sources recommended seeking expert aid to avoid major damage. After some deliberation, the homeowner began searching online for
expert tile and grout cleaners in Charleston, South Carolina
. After watching many video testimonials from happy customers and going through our
picture gallery
, she called us to schedule a free in-home evaluation.
We went to the homeowner's house as scheduled to evaluate the bathroom. As soon as we walked in, we saw the grout lines on the floor were in bad condition. The grout had become discolored, and the stone tiles needed some cleaning. The floor was filthy and had an awful overall look. Excessive moisture and a lack of upkeep were most likely to blame for these issues.
We offered the customer our multi-step tile and grout cleaning procedure after some explanation. Our procedure would not only restore the grout's color, but it would also protect it from hazardous outside contaminants. The owner approved our offer, and an appointment for the project was scheduled.
A few days later, we arrived at the customer's home, prepared to start the restoration. We began by soaking the bathroom's surfaces in a soap-free, pH-neutral cleaner. Our cleaner also has qualities that help prevent the growth of mold and mildew growth. We cleaned the entire bathroom. The most difficult-to-clean areas were cleaned using a steam cleaner.
ColorSeal was used to seal the grout lines on the floor after the bathroom was cleaned. This is an acrylic-based sealer that keeps water, soap, dirt, stains, mold, and mildew out of the grout pores. ColorSeal is available in a variety of colors, is easy to clean, and contains grout hardening agents to assist prevent grout erosion. Our staff also sealed the tiles on the bathroom floor using another sealant of ours.
When our team was done, we showed the results to the owner. She was surprised by the fresh look of her bathroom. She couldn't believe how well the job had been completed. The owner appreciated our efforts, and we said goodbye to our customer with a smile on our faces.
Before we left, we gave the homeowner some recommendations on how to keep the bathroom nice and clean. Our initial recommendation was to clean the bathroom once a week using soap-free, pH-neutral products like
Sir Grout's Natural Hard Surface Cleaner
. Unlike other store-bought cleaners, this one is safe for both tile and grout and leaves no residue. We also suggested that the surface be kept as dry as possible. To do so, the homeowner should use a dry towel to wipe away any excess wetness. This process helps to prevent water seepage and mold formation.
Sir Grout Charleston can help you restore your showers and bathrooms. We are the industry leaders in tile and grout cleaning. Call us at
(843) 920-6242
or click on the "Schedule a Free Quote" button. If you want to keep up with our latest news and promotions, subscribe to our
newsletter
.